Denise Pattiz Bogard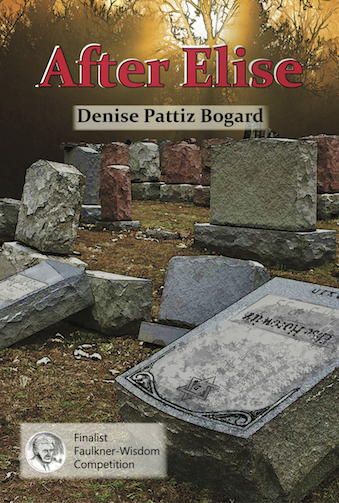 After Elise
Imagine this: You are a married mother of two, driving to the grocery store in a storm, changing the radio station, answering your cell phone, when you notice a woman stranded by the side of the road and, on impulse, decide to pull over….
Teri Berger's car skids in the rain, killing twenty-year-old Elise and leaving Teri reeling with guilt and the rest of her family in disarray as they struggle to adjust to this new reality. Already strained family relationships are tested, and Teri's marriage suffers, her son withdraws, and her daughter faces a heartbreaking decision.

AFTER ELISE

confronts readers with the most everyday tragedy—an accident that could happen to anyone—and its effects, changing the lives forever of everyone involved.
Ultimately, the novel is a story of forgiveness and healing.
AFTER ELISE has been named a finalist in the Faulkner-Wisdom Creative Writing Contest
After Elise is available now for pre-order
Release Date: August 1, 2017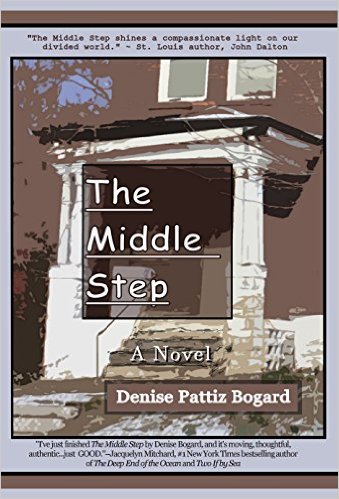 The Middle Step
Exploring the intersection of race, poverty, and family in inner-city St. Louis.
After a series of miscarriages and the failure of her marriage, Lisa Harris, a white, suburban woman, finds herself in deep despair. Eager to embrace parenthood in any way possible, she accepts a job as foster mother in St. Louis to four teenage girls who have been pulled from their homes. Lisa is immediately overwhelmed by the challenges of parenting troubled girls with a vastly different background, culture, religion and race. Yet, doggedly, she stays committed to the job, where she learns that healing herself and others requires more than good intentions.

Available Now At These Booksellers

"I've just finished THE MIDDLE STEP by Denise Bogard, and it's moving, thoughtful, authentic … just GOOD."
– Jacquelyn Mitchard, #1 NYT bestselling author of The Deep End of the Ocean and Two If By Sea
In a Book Club?
Please consider The Middle Step. If you are in St. Louis I can attend in person. If you are outside the St. Louis area, I am happy to Skype in!
About the Author
---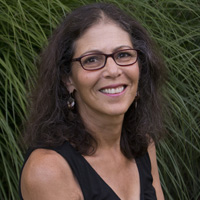 Denise Pattiz Bogard
Denise Pattiz Bogard has been writing professionally for more than 30 years and has had her award-winning fiction and non-fiction published in, among others, The Oklahoma Literary Review, Newsweek, Lady's Circle, The St. Louis Post-Dispatch, and Teacher Magazine. Two of her essays have been anthologized in Are We Feeling Better Yet? Women's Encounters with Health Care in America (Penultimate Press, 2008) and Winter Harvest (Brodsky Library Press, 2011).
Her upcoming novel AFTER ELISE has been named a finalist for the prestigious Faulkner-Wisdom Creative Writing Contest, novel category. It is due out in the summer of 2018.
Denise earned her MFA in creative writing from the University of Missouri-St. Louis and her BS in journalism and history from Indiana University.
She is the founder of St. Louis Writers Workshop and coordinated the writing program at Lift For Life Academy charter middle and high school in downtown St. Louis. Previously, Denise worked as an adjunct professor at Webster University, as a reporter and as a co-founding partner of a full-service public relations agency.
THE MIDDLE STEP is her first novel.
"Denise does an amazing job of catching the fragile toughness of these children. What a beautiful book!"
– David Haynes, The Full Matilda